Since 1969, Janus Capital Group has stayed true to our mission: deliver better client outcomes through actively managed investment solutions. Today, we offer a broad range of fixed income, equity, alternative and multi-asset strategies managed by Janus, INTECH and Perkins, as well as a suite of exchange traded products. Through expertise in security selection, portfolio construction and asset allocation, we help investors meet their goals of growth, volatility management, uncorrelated returns and income.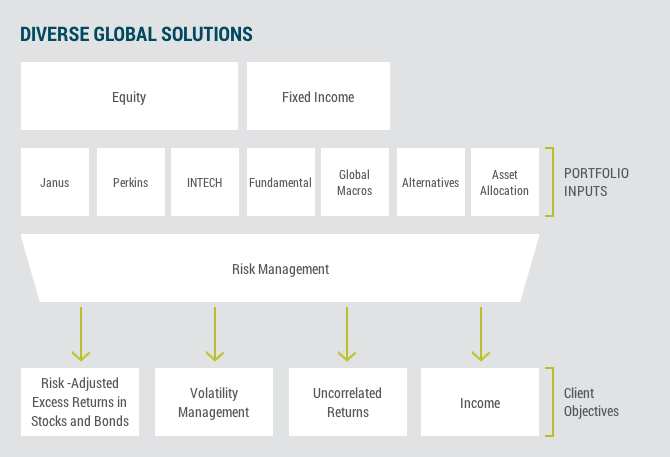 Responsive to the needs of investors in today's complex market environment. With more than 100 expertly constructed investment strategies and an unwavering focus on delivering superior risk-adjusted returns, Janus can meet the needs of virtually any investor.
ASSET CLASSES
US equities
Global equities
Regional/international equities
Fundamental fixed income
Global macro fixed income
Asset allocation
Liquid alternatives
Money markets
VEHICLES
Mutual funds
ETFs
Separate accounts
Retail separately managed accounts
Pooled vehicles

CITs
Commingled Pools
Australian Unit Trusts
GLOBAL PERSPECTIVE, GLOBAL REACH
On the ground where our clients live and work, we have an in-depth understanding of local markets and investor needs to complement our global perspective. A robust infrastructure enables Janus to bring our best global thinking to all aspects of our business including trading, risk management and client service.
North America
Denver, CO (Headquarters)
Chicago, IL
Darien, CT
Newport Beach, CA
Princeton, NJ
San Francisco, CA
West Palm Beach, FL
Europe
Frankfurt, Germany
London, England
Milan, Italy
Paris, France
The Hague, The Netherlands
Asia Pacific
Hong Kong
Melbourne, Australia
Singapore
Sydney, Australia
Taipei, Taiwan
Tokyo, Japan
Middle East
Dubai, United Arab Emirates
COUNTRY SPECIFIC AWARDS
Germany: Janus Capital International Limited Old Mutual Bond US Dollar Certificate
Germany: Janus Capital International Limited Janus Capital Bond US Dollar Short Term Certificate
Germany: Janus Capital International Limited Janus Capital Equity Sector Health Care Certificate
Nordics: Best fund over 10 years in the equity sector healthcare - Janus Global Life Sciences Fund
AWARDS
EUROPE
Janus Global Life Sciences
Equity Sector Health Care,
Over 10 years in 2017
Europe
Janus US Short-Term Bond Fund
Bond US Dollar – Short Term,
10 years in 2017
Europe
Old Mutual UK Dynamic Equity GBP
Equity UK
3, 5 years in 2016
United Kingdom
Old Mutual Total Return USD Bond
Bond US Dollar,
10 years in 2016
Europe
Janus Global Life Sciences
Equity Sector Health Care,
Over 3, 5 years in 2016
Europe
Janus US Short-Term Bond Fund
Bond US Dollar – Short Term,
10 years in 2016
Europe
Janus Global Life Sciences
Equity Sector Health Care,
Over 3, 10 years in 2015
Europe
Janus US Short-Term Bond Fund
Bond US Dollar – Short Term,
10 years in 2015
Europe
Janus US Venture Fund
Equity US Small and Mid-Cap,
Over 5 years in 2015
Europe
Janus US Short-Term Bond Fund
Bond US Dollar – Short Term,
Over 10 years in 2014
Europe
Janus US Venture Fund
Equity US Small and Mid-Cap,
Over 3, 5 years in 2014
Europe
Janus Global Technology Fund
Equity Sector Information Technology,
Over 5 years in 2014
Europe
Janus US Venture Fund
Equity US Small and Mid-Cap,
Over 3, 10 years in 2013
Europe
Janus US Short-Term Bond Fund
Bond US Dollar – Short Term,
Over 5 years in 2013
Europe